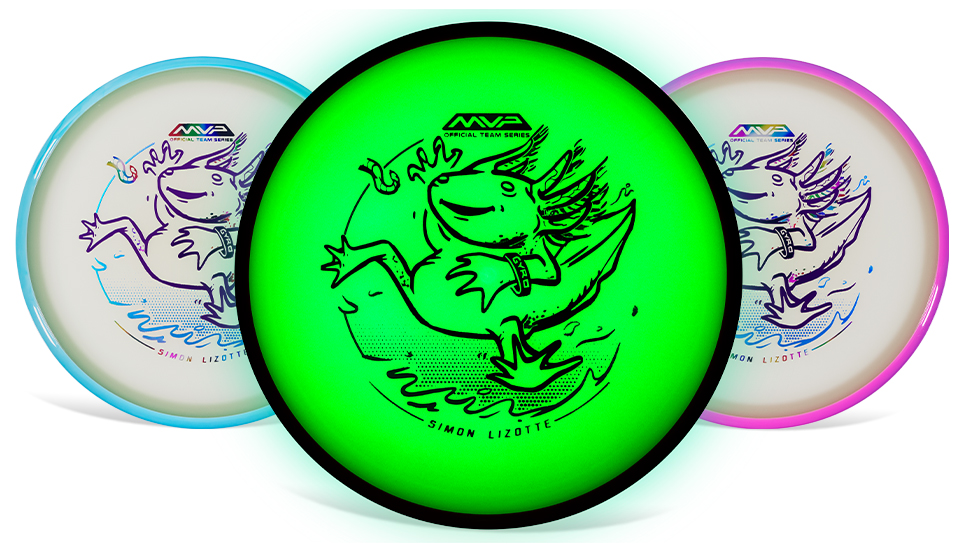 The brand new Simon Lizotte glow hex is in the shop and I am really impressed with this release from MVP Disc Sports! The foils are great, that eclipse glow is loud af, and this disc flies amazing. I don't have to give this disc much gas on hyzer at all to get maximum glide and that makes me more accurate when I don't have to mash on a disc. Here's what MVP says:
Simon's first Team Series disc with us had to be something he truly loved, we thought it might be a long process. We thought wrong! It was love at first throw for Simon and the Eclipse Hex, and we are beyond excited to bring this amazing midrange to GYROnauts everywhere. Depicting an extremely excited axolotl, the Leapin' Liztottl' is sure to be a fan favorite stamp – adorable levels are off the charts, straight from the mind of Mike Inscho! The Eclipse Hex is the laser straight midrange you've been looking for.
With enough stability to handle power and torque without turning over, and the ability to shape some beautiful anhyzer lines as well, the Eclipse Hex is ready to carve any fairway you come across – including at night thanks to our industry-leading Eclipse glow plastic! Celebrate one of the biggest moves in disc golf history with one of the best midranges on the market – take the leap with us!
The MSRP for these is $29.95 but we have them on sale right now over at our online pro shop. There are a variety of foils and rim colors available. Weights should be maxed or close to. Are you throwing the last run of lightweight neutron hex that we had? This new Lizotle is much more stable and can handle more torque!